Hire a Professional Corporate Magician for your next Corporate Meeting –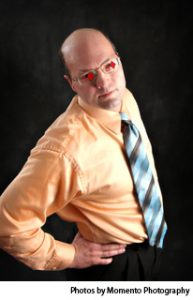 From regularly scheduled sales reviews and brainstorming sessions, to holiday or summertime outings, to the biggest of all gatherings, corporate shareholder meetings and industry conferences, Abracadabra Productions' Phil Smith can put magic in any meeting.
Utilizing magic and humor, Phil turns what all too often can be ho-hum meetings into exciting, interactive, laugh-out loud, productive gatherings.
Get your next meeting off to a roaring start—Phil sawing the company president or CEO always works! Or end it on a high-note—watch him make competitors disappear and pull profits out of thin air!
In between, this master of illusion can help make break-out sessions fun and productive and working lunches memorable.
If you're looking for rave reviews of your next meeting, call Phil Smith today.
"Thank you for the outstanding performance you did at our Strategic Plan Session. I hope the two standing ovations you received from our group truly show you how much we enjoyed your magic, humor, and illusions."
—The Provident Bank, Amesbury, MA
"Everyone at the Cole Hersee International Sales Meeting enjoyed the entertainment you provided…and look forward to having you at a future Cole Hersee Company event."
—Cole Hersee Company, So. Boston, MA
"Our employees are still commenting on how much they enjoyed your performance…thank you for making our annual luncheon a memorable one."
—Brann & Isaacson
"Thank you for your wonderful performances ..we will pass your name on to other companies that are in need of a unique twist to their meetings."
—ME/NH/VT Districts, Kindred Healthcare
"Thank you for your excellent presentation… you did a nice job of tying in our meeting topics."
—The Prudential
"We have hired Phil Smith of Abracadabra Productions for the past 6 consecutive years…we always know which table Phil is finishing up because he always leaves to laughter and often rounds of applause!"
—Maine Medical Center
Hire Phil Smith For Your Meeting Entertainment Today
1-800-964-8749